Northvolt reveals development program for aviation battery systems
25 April, 2023
New program dedicated to developing high-performance aviation battery systems will leverage Cuberg lithium metal cell technology to enable safe, sustainable electric flight.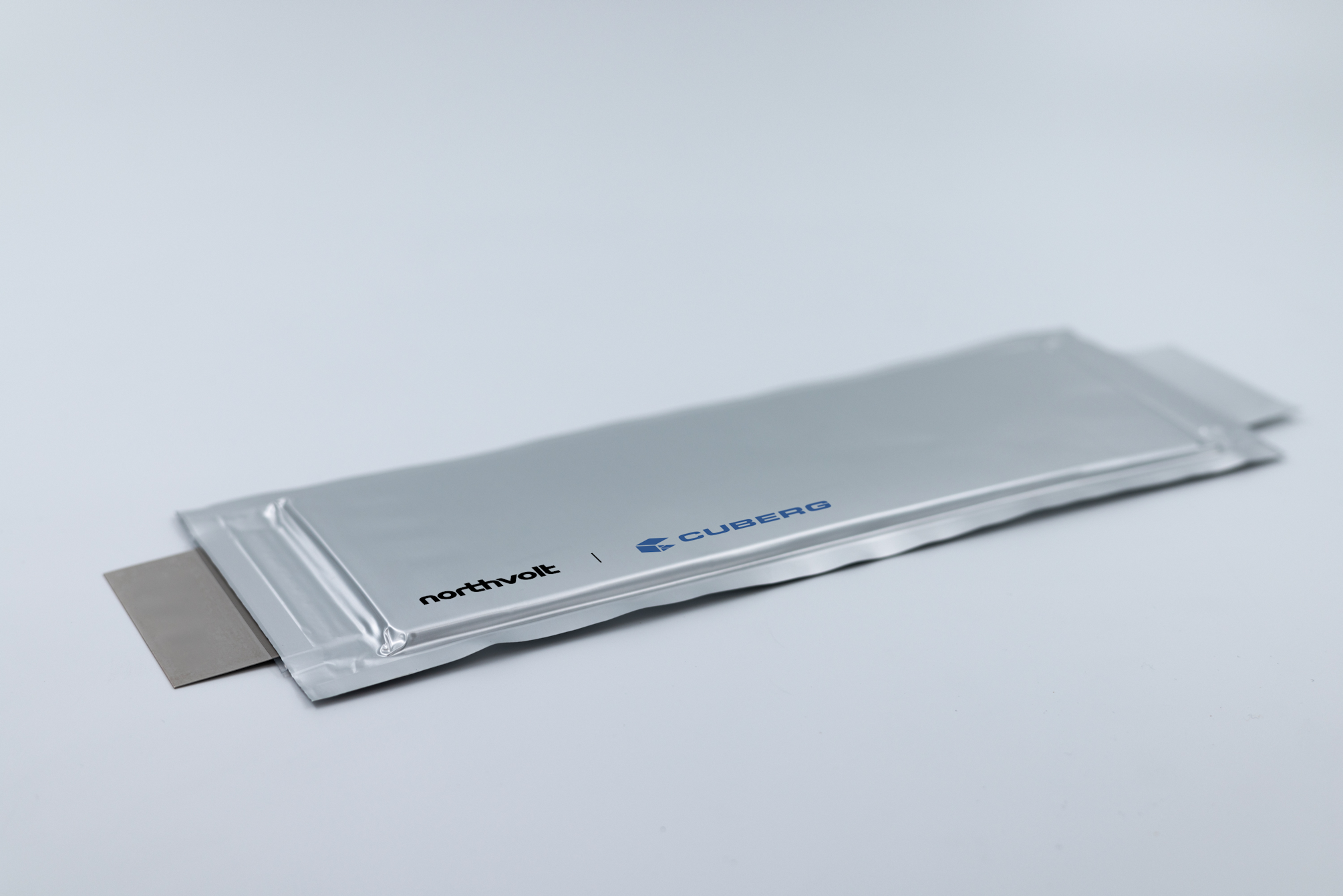 New initiative from Northvolt's subsidiary Cuberg will enable electric aviation operators and manufacturers with reliable, high-performance and sustainable battery systems.
Lithium metal battery technology will provide the foundation to enable electric aviation with high energy density and low weight.
Cuberg has already achieved significant program milestones, including building and shipping next-generation 20 Ah cells with specific energy of 405 Wh/kg, engineering and producing a module and achieving passive propagation resistance.
Stockholm, Sweden, and San Leandro, California, USA – Northvolt's subsidiary Cuberg today unveiled a new program dedicated to developing high-performance battery systems that will enable safe, sustainable electric flight. Cuberg will spearhead the program through the design and build of system solutions for the aviation industry based on its innovative lithium metal battery technology.
Peter Carlsson, CEO and Co-Founder of Northvolt, comments: "Northvolt is establishing itself as a leading global provider of sustainable battery cells for the automotive segment as well as complete battery systems for the heavy industrial and energy storage markets. With our aviation systems program, we will leverage Cuberg's next-generation lithium metal cell technology together with our battery manufacturing experience to bring end-to-end energy solutions to the skies."
Since publishing externally validated performance data on its lithium metal cell technology in July 2022, Cuberg has made significant advances toward a fully integrated battery system.
First, Cuberg has developed a 20 Ah commercial-format lithium metal pouch cell with specific energy of 405 Wh/kg which has been shipped to customers worldwide.
Second, Cuberg has engineered and produced an aviation module, based around its 20 Ah lithium metal cells, with specific energy of 280 Wh/kg and energy density of 320 Wh/L.
Third, the Cuberg lithium metal module platform has achieved passive propagation resistance during a thermal runaway verification test campaign, a key step in certification of aviation battery systems.
Richard Wang, Cuberg CEO and Founder, comments, "The aviation industry is pursuing cleaner forms of energy and propulsion, but aircraft manufacturers are held back by the weight and immaturity of aviation-certifiable lithium-ion battery systems. With this new program, we will build certifiable battery systems enabling greatly enhanced aircraft performance and deliver a trusted end-to-end solution backed by one of the world's preeminent battery manufacturers."
Cuberg technology uses a lithium metal anode and proprietary liquid electrolyte to simultaneously solve the interlocking challenges of battery performance and manufacturability. While incumbent battery technologies, such as lithium-ion, can be too heavy and low-performing for use in aircraft, Cuberg's battery cells are lightweight and high-performance. The technology is also compatible with industry standard manufacturing methods, enabling scalability, reliability and traceability across the value chain.
About Northvolt
Northvolt is a European supplier of sustainable, high-quality battery cells and systems. Founded in 2016 to enable the European transition to a decarbonized future, the company has made swift progress on its mission to deliver the world's greenest lithium-ion battery with a minimal CO2 footprint and has grown to over 4,500 people from over 110 different nationalities. Northvolt has to date secured more than $55 billion worth of contracts from key customers, including BMW, Fluence, Scania, Volkswagen, Volvo Cars and Polestar, to support its plans, which include establishing recycling capabilities to enable 50 percent of all its raw material requirements to be sourced from recycled batteries by 2030.
About Cuberg
Cuberg, part of the Northvolt group, builds high-performance energy solutions for the world's most demanding battery applications. Cuberg was founded in 2015 in order to commercialize its next-generation lithium metal cell technology and was acquired by Northvolt in 2021 in order to bring this innovation to scale. Cuberg is located in San Leandro, California, United States.